The Living Room: A Marriage of Contemporary Art and Furniture
April 11th—May 19th
Opening Reception Saturday April 14, 6-9

Ruby Osorio
Joe Biel
Julia Fullerton-Batten
Charles LaBelle
Erika Larsen
Cara Ober
Manuel Ocampo
Ruby Osorio
Nick Walker
furniture provided by Contemporaria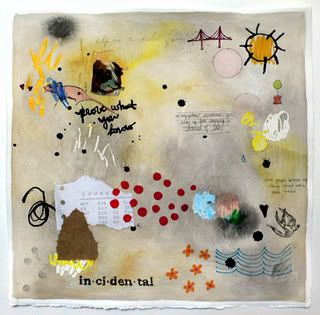 Cara Ober
Randall Scott Gallery
1326 14th Street NW Washington,D.C. 20005
202-332-0806 (tel)
www.randallscottgallery.com
Curatorial Statement by Randall Scott:
Somewhere, long ago some art dealer leased a warehouse, a storefront, or an office and proceeded to remove everything inside it. They stripped it bare, exposed the concrete foundation, polished it and when it was ready, painted the walls white. The design echoed and a standard was developed. From galleries to museums, art centers and the corporate station this is how we have become accustomed to looking at art: object, separated from distraction in a clean room.
During construction last October, as I was stripping my gallery space bare, exposing the plywood foundation and eventually painting my walls a pure shade of white, I was thinking of this. Behind the handles of an industrial belt sander, the dust of 100 years of building history lingering in the air, I thought of the space's past. Not that it was once an office, or a Chinese laundry, or a brothel (which I was told it had been), but that it was originally someone's home.

Julia Fullerton-Batten
It was then I decided to do "The Living Room Show." I wanted to show the relationship of visual art and the living space; after all, the living space is generally the desired destination for the artwork a gallery exhibits. It would seem fitting, if just for one show, to return the building to its original function, a place where someone once lived, surrounded by what may have been, his or her art collection.
I had a choice to make, do I design the living room the way people actually live, or do I deck the place out as my dream space. The thought of having well lived in, couch potato compressed sofas and coffee cup stained coffee tables stocked with four separate TV remotes appealed to my rebellious self. The thought of kids toys strewn about, and a gallery cat sleeping wherever it wanted was very inviting. But, the fluidity of an Italian/European design just was too much to get out of my head. I am, in fact in love with modern furniture design, a process involving the concept of creating function and aesthetic, in context with both the history of Modernism and a vision of the future. Modern furniture does require a clean design. But, the end result would be the same, Object, surrounded by objects, working in harmony.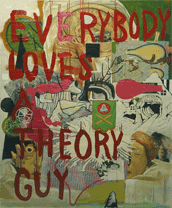 Manuel Ocampo
Since I have never fully recovered from my Ikea phase (which is ironic since I am in love with modern, non-particle board furniture), I contacted Deborah Kalkstein, owner of Contemporaria Georgetown. Deborah is a design goddess. Her sensibility and eye for the finest of furniture and her innovative interior designs I knew would be perfect. She will be designing the space and choosing the furniture from such designers as, Cappelini, MDA, and Minotti to name a few. Furniture both functional and works of art in their own right.
In choosing the artwork to integrate with the furniture design, I wanted artists who both technically work their surfaces, be it paint, graphite or photograph and create dialogue. I did not want work that was about formalistic attraction (that is, safe-pretty), I was looking for a collection of artists that understood formalism, grabbed it by the center of the tube and squeezed till understanding gave way to necessity of telling a story without necessarily "Telling" the story. Their work is not about how well they paint (and they can paint), or draw, or photograph, it is about how they understand and how they relay that understanding. Thus, the work can be entered on a number of levels, emotionally, intellectually and formalistically and can be lived with because it teaches, reveals and entices on a constant basis.